REVERBERATION OF PANDEMIC MIGRANT FOOTPRINTS AND POLICY MANIFESTATION: A PROGRESSIVE STATE APPROACH OF NORTH-EAST INDIA
Pankaj Choudhury

NEF Law College
Abstract
This is the defining moment of our generation. We are facing a global health crisis, one that is killing people, spreading human suffering, and upending people's lives. The Covid-19 pandemic and sudden global lockdown across nations has brought migrant livelihoods to a halt. The headlines around Covid-19 are enough to scare us witless. The migrant crisis brought to the fore the unfulfilled obligations of the governments to restore work to its most vulnerable citizens in the era of economic liberalization. The migration debate has become central to political circle which largely involves rehearsing to false dichotomies whereas migrants are in continuous drift. Debate is just not restricted to utility of limited public funds. We have to create an 'island of opportunities' in this 'ocean of distress'. The research poses the questions, namely: 1. How did immigration occur in North-east India? 2) How were the debates relating to migrants from North-east India? 3) How did the government of North-east India respond to the situation of migrants from North-east India during the Covid-19 pandemic? It was found and concluded that growing rural distress with agricultural failing leading to heavy debt burdens was the primary reason of immigration in North-east India. "The Assam Accord" signed between the "Government of India" and the "Leaders of the Assam Movement" in 1985 effectively legitimized all immigrants entering Assam before 24, December 1971. The SHG's under National Rural Livelihoods Mission (NRLM) and Assam State Rural Livelihoods Mission (ASRLM) had adopted series of remedial measures during the Covid-19 pandemic for people, including migrants from North-east India.
Downloads
Download data is not yet available.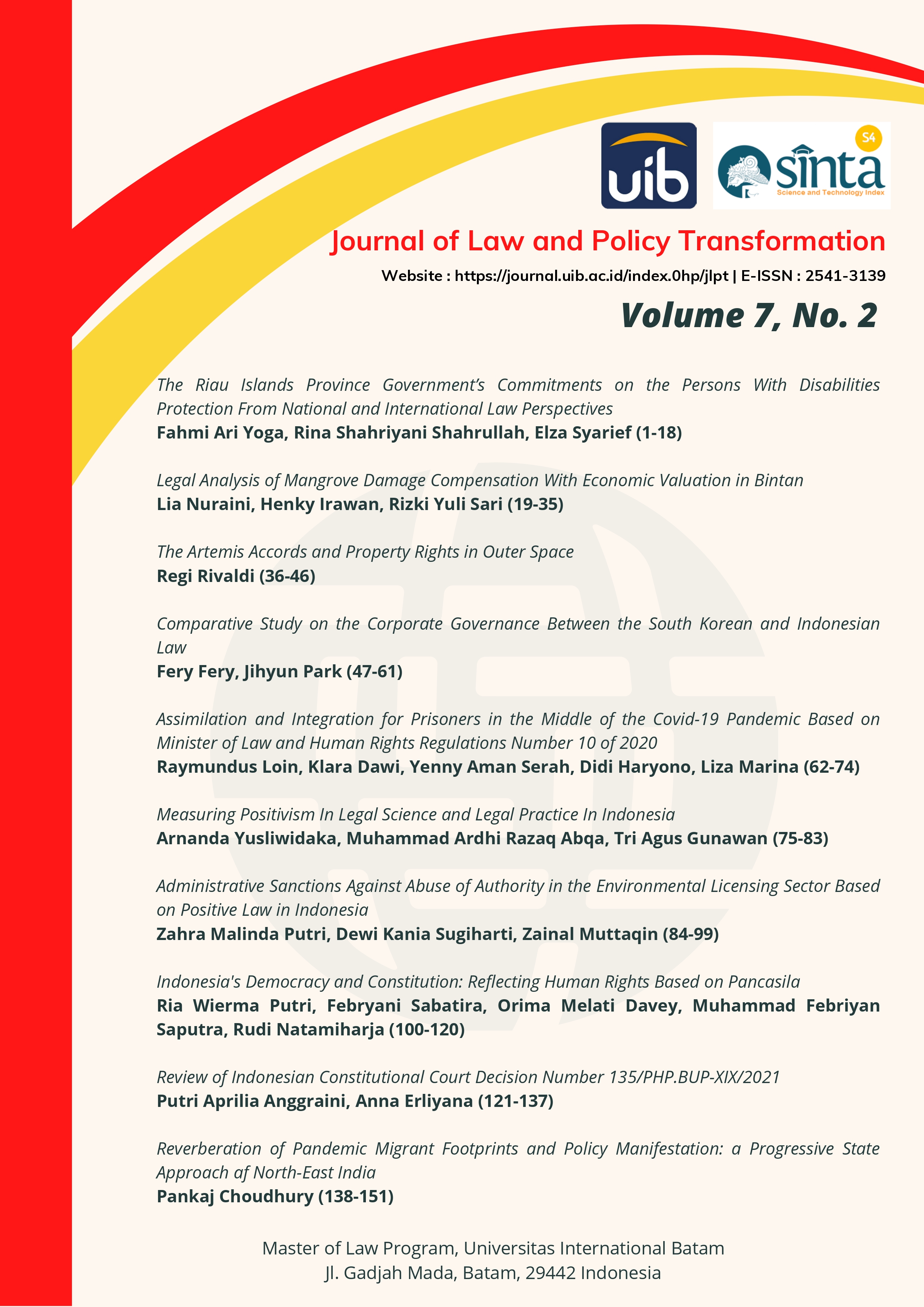 This work is licensed under a Creative Commons Attribution-NonCommercial-ShareAlike 4.0 International License.
Program Magister Hukum Universitas Internasional Batam