HANDLING THE COVID-19 PANDEMIC IN INDONESIA AND INDIA: A CRITICAL FLASHBACK IN 2020
Marfin Timu Apy Phymma

Universitas Internasional Batam

Rina Shahriyani Shahrullah

Universitas Internasional Batam

Lu Sudirman

Universitas Internasional Batam
Abstract
The Covid-19 pandemic is one of the most common pandemics in contemporary history. The preparedness of a country is also determined by how well it is able to reduce the rate of spread, the fatality rate, the ability to handle infected patients, as well as from the capacity to mobilize and manage resources appropriately to deal with crises and their impacts. This study attempts to compare the approaches of Indonesia and India in handling the Corona Virus Diseases (Covid-19) pandemic in 2020. This study adopts a qualitative research approach by using secondary data which are collected from the printed and electronic media related to Covid-19 in Indonesia and India. It was found that India implemented a total lockdown until September 2020 because the number of positive cases of COVID-19 in India reached more than 4.7 million with a death toll of more than 78 thousand people. Meanwhile, Indonesia did not implement a total lockdown. It adopted the Large-Scale Social Restrictions (LSSR). Although it succeeded in temporarily suppressing the spread of Covid, the LSSR was considered not effective enough. Similar challenges were faced by India which chose to lock down the country. Despite being able to temporarily suppress the rate of Covid-19, the sudden implementation of a regional quarantine and minimal preparation created a humanitarian crisis.
Downloads
Download data is not yet available.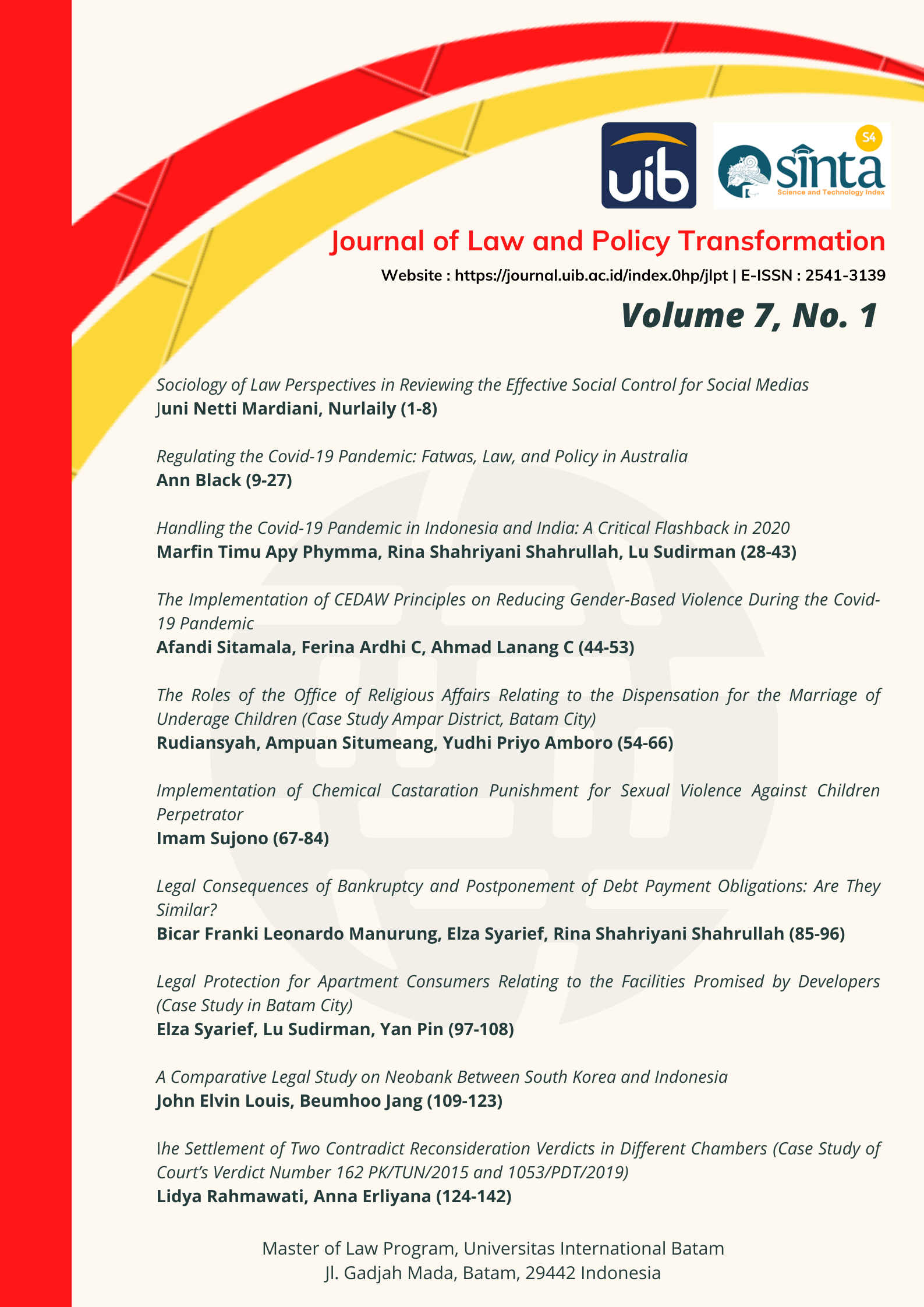 This work is licensed under a Creative Commons Attribution-NonCommercial-ShareAlike 4.0 International License.
Program Magister Hukum Universitas Internasional Batam